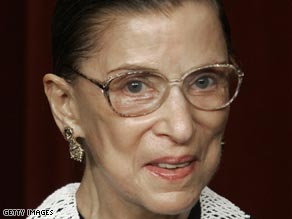 I hope you didn't take the title to this post out of context, 'cause this is serious y'all! I was referring to prayer!
Seventy-five year old Supreme Court Justice Ruth Bader Ginsburg is again being treated for cancer,
CNN.com
reports. She had undergone treatment at the beginning of the decade for colorectal cancer. This time, it seems, she is being treated for pancreatic cancer--we all know what bad shiz that is.
Ginsburg is one of the more liberal judges on the court as she was appointed by President Clinton the year he took office. All we can do is hope for the best. Treatment for these kinds of things can be rather wearing on a person. Let's hope she makes it through safe and sound;
homegurl ain't gettin' any younger.
She's been the counterargument throughout the Bush years and has contributed so much. She knows how to handle her conservatives!